We are Sampaca Resources Corp, a market-leading firm in energy products, Diesel fuel and Coal, export trading in Minerals, and construction materials. Our objective is to build long-term relationship and good service for our clients. Sampaca Resources Corp was established in the belief that urban development would demand for the products and services that we aimed to provide and providing service at its best.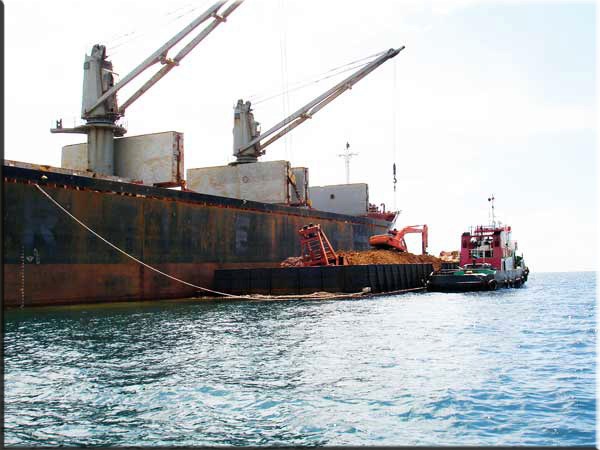 MIneral Ores
We are exporters in mineral ores, such as :
nickel
iron ore
manganese
chromite ores and
copper.
We are servicing buyers with requirements from 1,000 MT to 50,000 MT.
We also source out material requirements for prospective clients with particular needs.

Fuel and Energy
Recently, our company has expanded to Diesel Fuel importation with our Korean supplier NeoDigital Co. LTD. We have join with Sapphire Energy and Trading Corporation for our marketing needs, and future distributiion for diesel. Saphi Oil & Sapphire Energy and Trading has accomodating us for DOE, IP and Depot and handle the incoming shipment of Diesel Fuels from Qatar.

Coal
We can provide coal of high content for industrial companies.
We have our Mandate of Coal from PT Berdikari Anugerah Jaya Agung from South Kalamitan. We are marketing our high coal to power stations in Philippines.
Reclamation Projects
Sampaca Resources Corporation aim to be a world class supplier and exporter of reclamation materials including but not limited to reclamation sand, sand fill materials, construction sand, crushed aggregates, boulders and armour rocks in the Asia Pacific region.
It is our mission to use a world-class technology and equipment in the dredging and mining industry to extract and supply or export reclamation materials including but not limited to reclamation sand, sand fill materials, construction sand, crushed aggregates, boulders and armour rocks in various mining sites in the Philippines.
Loading of Lahar sand to LCT
Quarry of Armour Rock in Zambales
Quarry of Armour Rock in Zambales
Quarry of Armour Rock in Zambales


Panamax carrying Armour Rocks for Bangladesh
Mobile Crusher for Armour Rocks and Aggregates
Manila Bay City of Pearl, Reclamation & Urban Development Project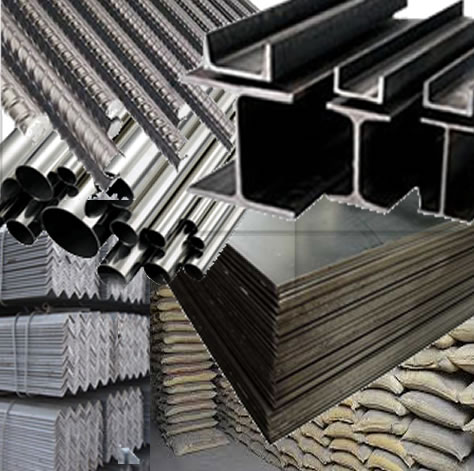 Construction Materials
We can import construction materials from different sources.
Steel, iron bars, angle bars and any steel requirement for construction.
Cement
Sand
We import cement from major suppliers in Asia. One of our major suppliers is PT Semen
Celebes Portland
Lucky Cement
8Star Portland
8Phoenix Portland
Location
We are based in San Fernando, Pampanga and Quezon City
Vision
Our objective is to be one of the market leaders in the distribution of petroleum products specifically diesel and gasoline which extends to our identified markets in the Visayas and Mindanao areas thereby providing our clients with the company's capability of good service, competitive pricing and a commitment to deliver customer satisfaction.
Pedro Armando (Peter) Lopez, Phd
Contact (516) 767-0374, (516) 660-8811, (Port Washington, N.Y.), (+63)9176923805 (Philippines)
Email: pedrolopez5144@hotmail.com, pmlsampaca@yahoo.com, pmlsampaca@gmail.com
SKYPE ID: doclopez05011944
Linkedin: Pedro Armando Lopez
Viber and Messenger: (63) 9176923805
___________________________________________ _______________________________
SUMMARY
Peter is an extensively experienced manufacturer, trader and exporter of commodities and other non-durable goods from the Philippines. His business acumen are vast in field of agri-business, and food technology. Peter's academic background and business acumen boost his achievements in this field. Peter is competent in conducting economic researches and feasibility project studies. He is competitive computer literate in Windows 10 , Microsoft office (Excel, power point, word, publisher), a Software such as Adobe Acrobat, Corelle, Jumlai , WordPress and several surfer engine (Yahoo, Google, Google Chrome, Safari, and Internet Explorer).
Doctorate in Business Administration with extensive experiences in managing medium size corporations as a CEO. Transformational leader in developing and providing quality food product for export to developed countries. Possesses comprehensive business management acumen involved in strategic planning, resource allocation and coordination, productivity, and leadership. A self-directed professional with excellent communication, interpersonal and problem solving skills who builds consensus and promotes teamwork. As entrepreneur and self-starter has assembled and launched many businesses corporations e.g. a food manufacturing company which exported to many countries, USA, Canada, UK, and Australia, a mineral trading company which export to China, and several e-business. Computer literate: Skilled of operating Windows 10, Microsoft Office 2016 (Excel, power point, word, Publisher), Firefox, Adobe Acrobat Pro, Correle, WordPress, Yahoo, and all Cloud software and several surfer engines. He is skilled in conducting economic researches and project studies.
CAREER OBJECTIVE
I desired a challenging professional position in Management, Manufacturing, Export Trading and Quality Control focusing on my long experiences and talents.
Selected Accomplishments
Generated an annual sale of over Php 150 million per annum in trading mineral resources to China such as nickel, chromite, iron ores, iron sand and manganese.
Multiply the volume of sales/exports to USA, Canada, Australia, UK and Asian countries from small food trading operation to a medium scale corporation with sales of about Php 100 Million annually exporting to 12 countries, by achieving continuously high quality standards. Based on my extensive knowledge in food production GMP, Food Quality Inspection, HACCAP we developed worldwide acceptance of food product we produced. Extensive executive familiarity about food inspection regulations and laws of countries USA ( FDA), Canada (CFIA), Australia (QVIS), UK, and Middle East Countries, we achieved minimum rejections for 25 years.
Possesses comprehensive executive knowledge in long term corporate strategic planning, short term corporate implementation, and resource allocation, legal affairs, project implementation, and market development that involved juices and frozen products, anda canned products. .
Professional educator, I served twelve years as a

Professor of Graduate School of Management of De La Salle University. As a Dean of college of management of West Negros College, Dean, College of Commerce, I increased the quality of education level.
As corporate entrepreneur, establishing a multimillion fish processing plant, and developed a known national (Philippines) and international brand exported worldwide – Victorias Sardines and Spanish type Milkfish in can.
Skilled economic researcher and making feasibilities project studies.
Skilled surveyor in weight and quality standard and a Fumigator. Competed issuer of certification of weight and quality, for I was rigorously trained by SGS in Geneva, Switzerland.
WORK EXPERIENCES
2012-Now Insurance Agent, New York Life
1000 Manhattan, New York
Insurance Agent, Bankers Conseco Life Insurance Company
1377 Motor Parkway Suite 404 Islandia NY 11749
Licensed Life and Health Insurance.
2012-2015 Maintenance Engineer, Harbor Link Golf, managed by Arnold Palmer Management
Port Washington, New York 11050
Associate, RITE AID
North Shore Road, Port Washington 11050
2005-present PRESIDENT, Sampaca Resouces Corp.
Has established this mineral trading company and successfully transacted to China, by arranging deliveries with large mining corporations and mining owners. Has initiated in Fuel Oil business and trading in Construction industry by supplying cement and construction materials.
1992-present PRESIDENT, SAMPACA FOOD INC.
A food manufacturer company oriented to export food products to USA, Canada, Australia, UK, Japan and Asian countries for 20 years. Of my marketing experiences I Traveled worldwide to interact with established food distributors and especially around Asia countries.. Knowledgeable with different food laws, quality standards and regulation of Japan, USA, Canada, Australia and UK. With long experience in food industry, high quality and safety standards I developed interpersonal skills in dealing with foreign business man.
1990-1992 PRESIDENT & GENERAL MANAGER, PAMANA GROUP OF COMPANIES
As CEO, of the food manufacturer corporation that exporting to four affiliates in USA and one Australian of food products, I turn around a losing corporate and strike prone company into robust profitable export company in just one year. Major contribution was the professionalization of the managerial and supervisory staff, and increasing quality aspects, and international competitiveness, through plant modernization.
1988-1990 GENERAL MANAGER, SIRAWAN FOOD CORP (subsdiary of DMCI) and Manager, DACON Agribusiness Ventures
General management of the agri-business, and development of the food corporation. Major contribution was the modernization of the Sirawan Food Plant in Davao, and new development foreign market. Major contribution in the agro-development was conversion of fishponds into modern prawn venture.
1986-1988 DIVISION MANAGER, SGS FAR EAST LTD.
This is the biggest international surveyors worldwide. Manage the Agricultural Division and was responsible for its profit and loss performance. Opera­tion was nationwide, and often included marketing to clients of foreign countries. I got familiar with Asian countries, such as Thailand, Malaysia, Singapore, Korean, Japan and China. Performed surveyor jobs from numerous clients,that was obtained excellent approval from SGS head office at Geneva, Switzerland. Major contri­bution was quadruple income of the division in less than two years. Was extensive trained on high standard quality and weight control. Was trained in Thailand and Switzerland for agri-business surveyor business, inspection of Rice, Tapioca, Sugar, Coconut and Palm Oil.
1967-1986 VICTORIAS MILLING CORPORATION (Sugar Factory), Victorias, Negros Occidental
Started as management trainee and rose from the ranks to Division Manager of Sugar Sales as an earlier age. This the biggest integrated sugar mill in Philippines. Before, I started as Sugar Refinery Supervisor in charged of operation and quality control for 5 years. Was promoted as Division Head of Sugar Refinery. Management Trainee proceeded as Industrial Engineer evaluating projects that various departments proposed for decision making of board of directors, Was extensively trained of basic management skills, such as Supervisory skills, Intrapersonal skills, Corporate Planning, Strategic Planning, Budgeting, Project Evaluation, Economic Analysis, and Business Research. Experience implementation of agri-oriented diversification ventures, and developed their non-sugar food business. Before voluntary retirement, was granted full Scholarship to study MBA and MS Industrial Economic (CRC now Asia Pacific University) .by VMC.
1990-2012 DE LA SALLE UNIVERSITY
Professor in charge of teaching diverse foreign student (Korean, Iranian, Chinese, Malaysian) Marketing, Production Management, and Risks Management at the Graduate School level..
EDUCATIONAL ATTAINMENT
2002-2006 De La Salle University, Manila
DOCTOR in PHILOSOPHY BUSINESS ADMINISTRATION
1972-1973 CENTER FOR RESEARCH AND COMMUNICATION (UAP)
MASTERS OF SCIENCE IN INDUSTRIAL ECONOMICS
1969-1972 DE LA SALLE UNIVERSITY, Bacolod City
MASTER IN BUSINESS ADMINISTRATION
1961-1966 DE LA SALLE UNIVERSITY, Taft Ave, Manila
BACHELOR OF SCIENCE IN CHEMICAL ENGINEERING
AFFILATIONS
MEMBER : Northwoods Golf and Country Club, Capitol Hills

MEMBER : Celebrity Plaza Club

Past DIRECTOR : PHILIPPINE FOOD EXPORTERS

Member : Philippine Jaycess,Bacolod (1964-1966)

Past Director : Couples for Christ, 1980-1985

Past President : Rotary Club of Victorias (1966-1986)
Rotary Club of Metro West Triangle (1992-2004)
Member: Rotary Club of Makati West (1986-1989)
: Rotary Club of Bagumbayan Manila(1989-1992)
Director : Federation of Exporter Of Philippines (FEOP) present

Director : Negros Economic Development Foundation

Dean : West Negros College, Commerce Department for 3 years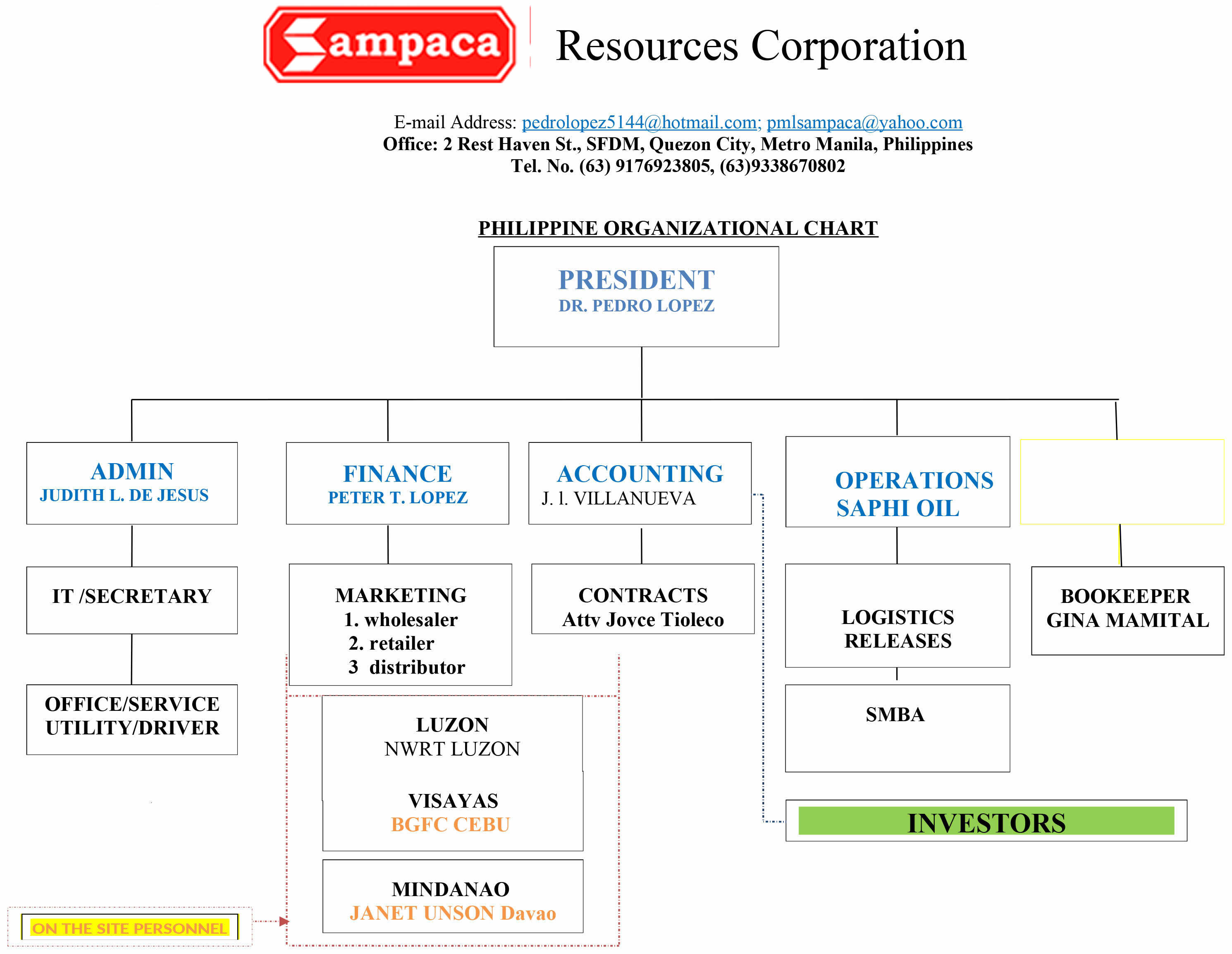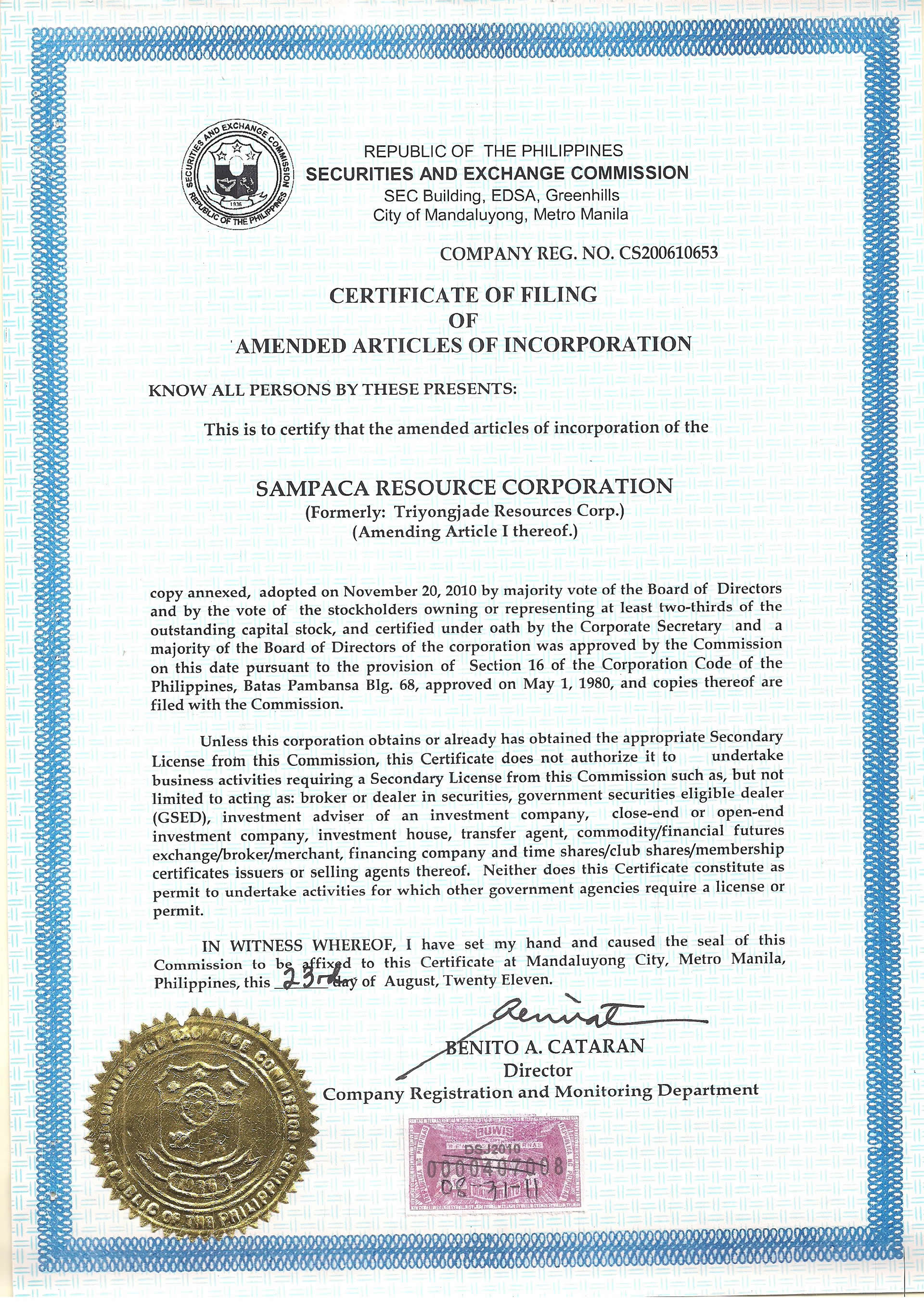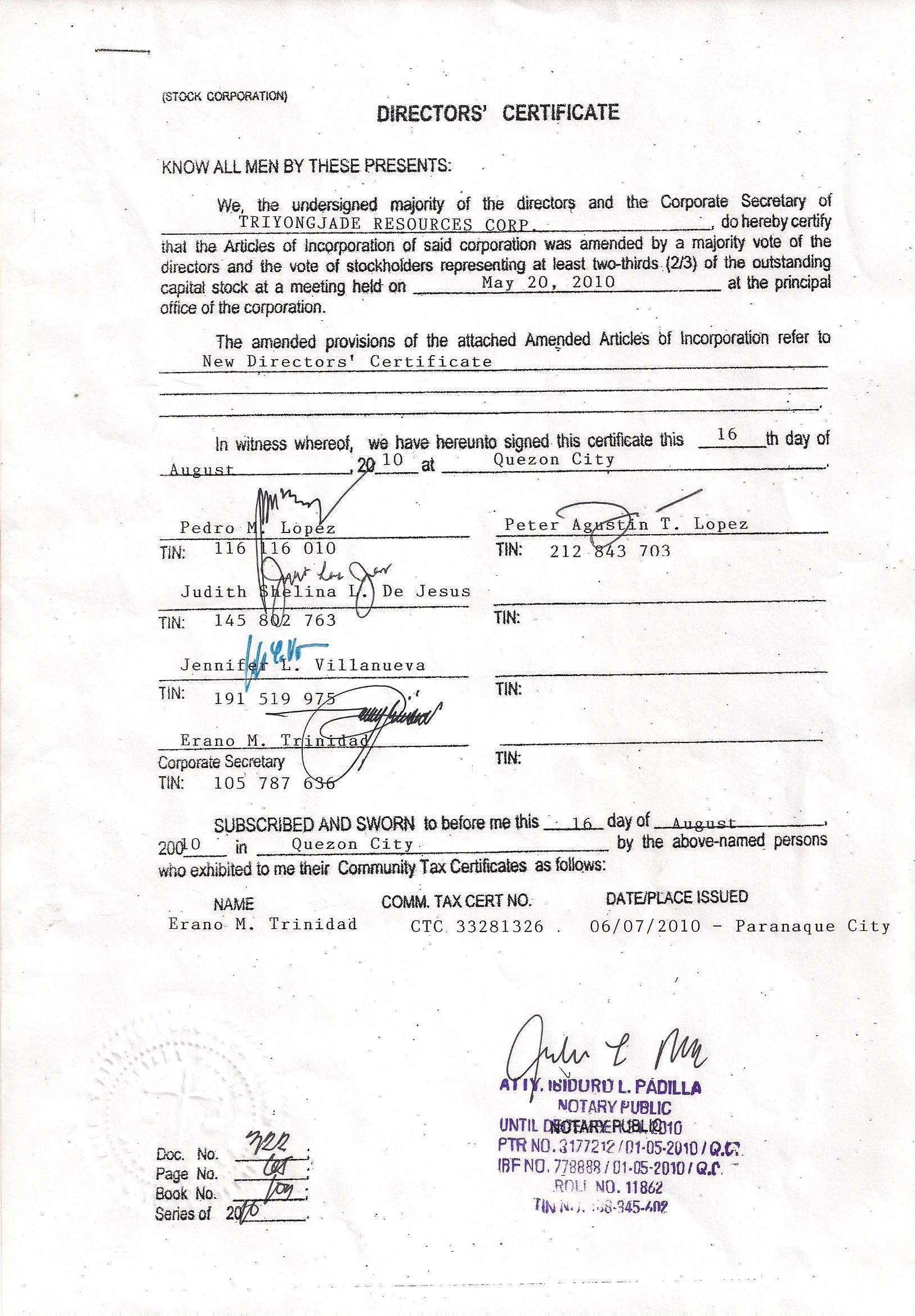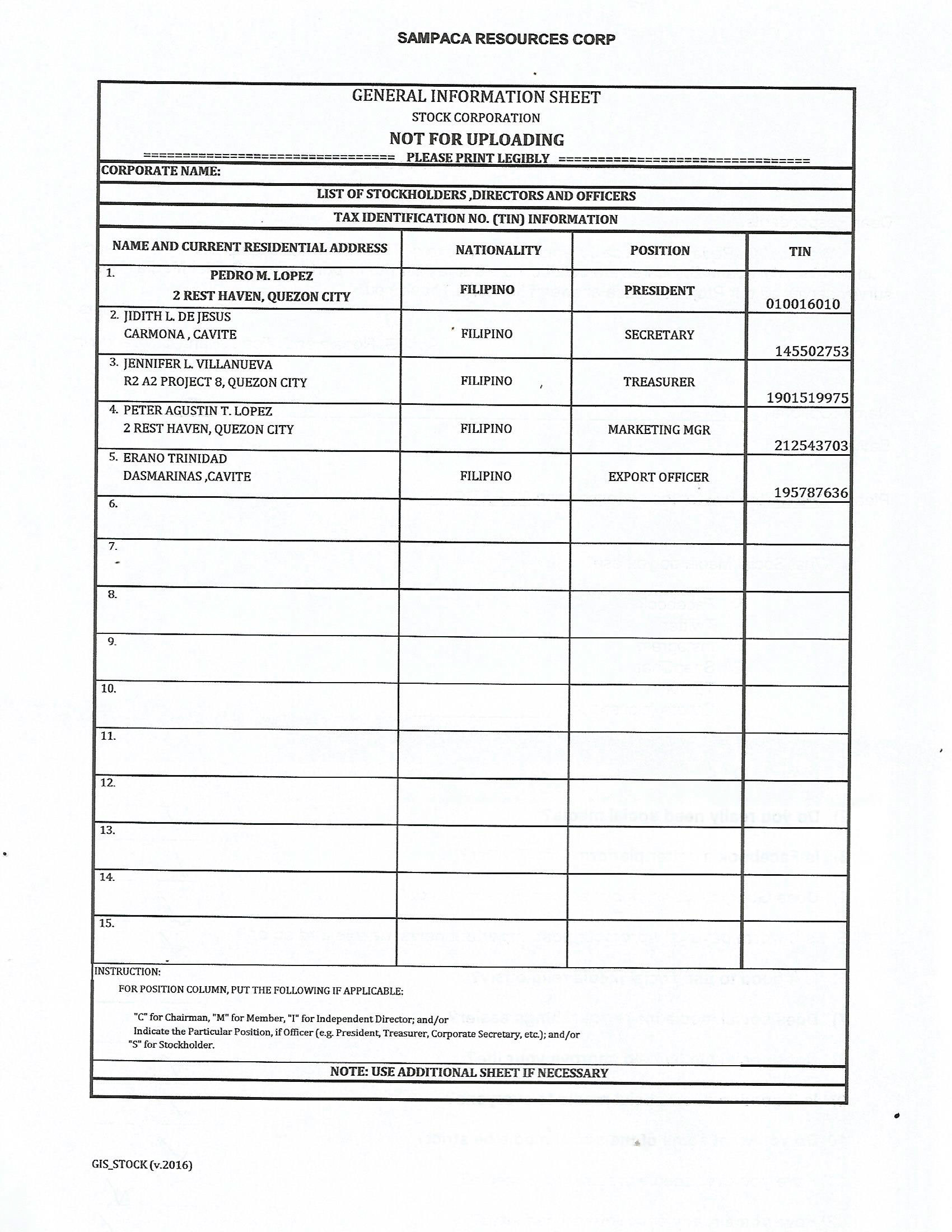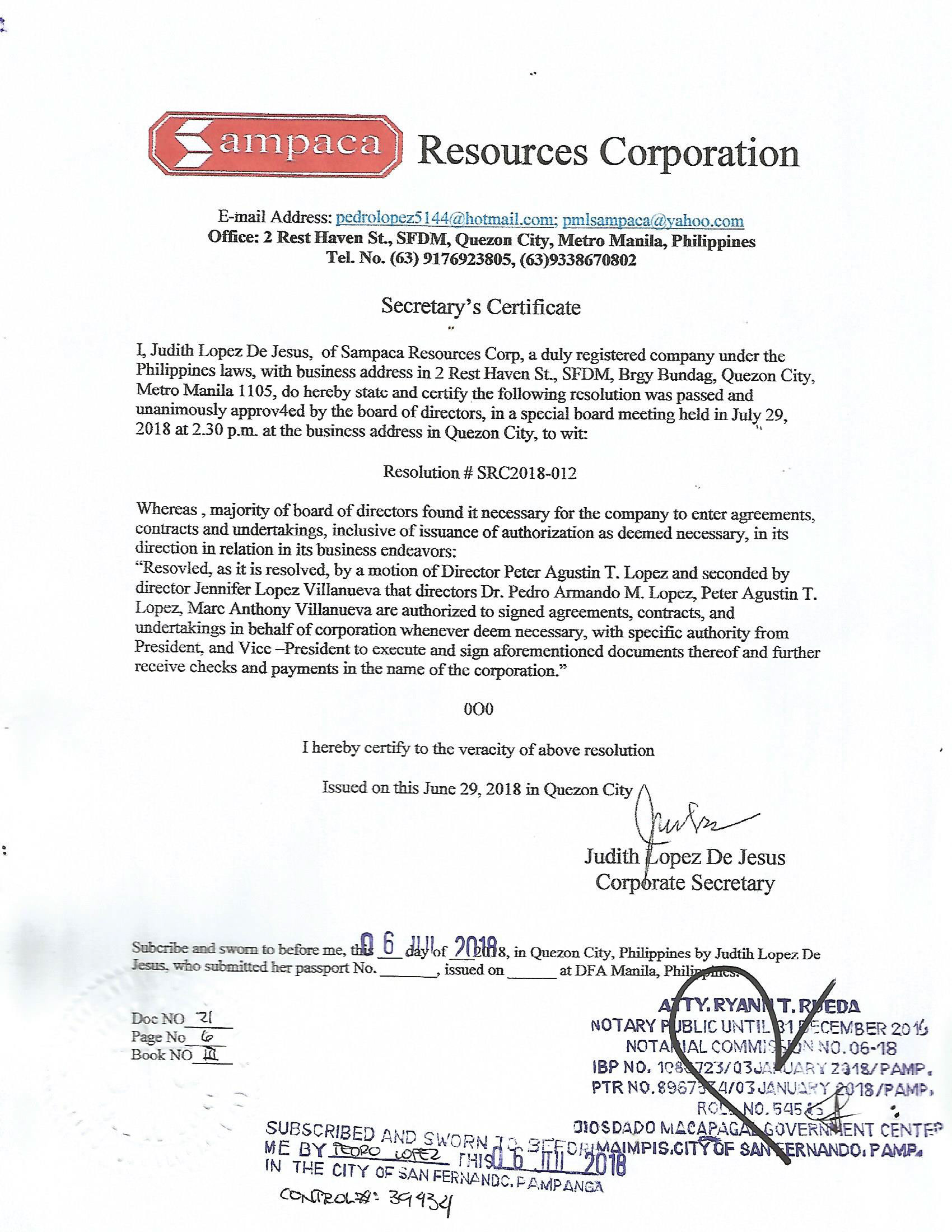 Subject: CORPORATE PROFILECORPORATE NAME SAMPACA RESOURCES CORPORATIONADDRESS: 2 Rest Haven St, SFDM, Quezon City, Philippines 1105
PHONE NUMBER and VIBER: 639276923805 and 639338670802
Email Address: pmlsampaca@yahoo.com, pedrolopez5144@hotmail.com
SKYPE ID: doclopez050119444
Year Established: January 1, 2007
Sec Number: CS-200610653
DTI Certificate Number:
Tax ID:
External Auditor: Leonardo G. Cua, 0774-A (Sec Accreditation No.)
Main Business: Export trading of minerals, importing fuel oils, trading of construction Materials
Main Product: Minerals : Manganese, Chromite, Iron Ores, Silica Sand, and Nickel
Fuels Oil: Diesel and Bitumen (Asphalt)
Construction Materials: Cement and steel products
Market Distribution: Philippines, China, South East Asia, and India
Website: www.sampacaresources.com
Contact Person: Dr. Pedro Armando M. Lopez
Partners:
Sapphire Energy & Trading
Saphi Oil Corp
PCD Fuels & Energy Resources Corp
Best Gas Fuels Corp.
Attested by:Dr. Pedro Armando M. Lopez
President
Judith Lopez De Jesus
Corporate Sectary