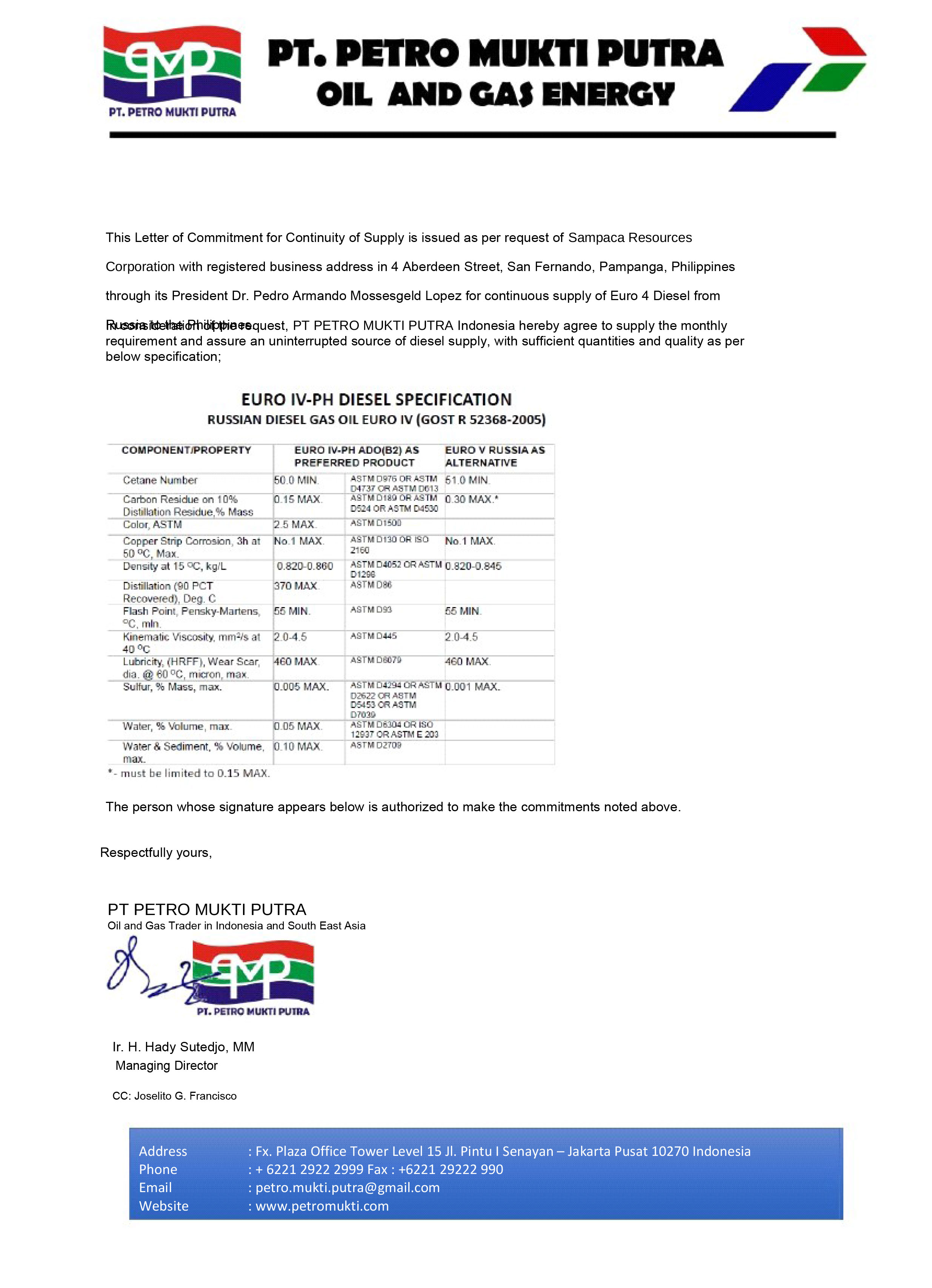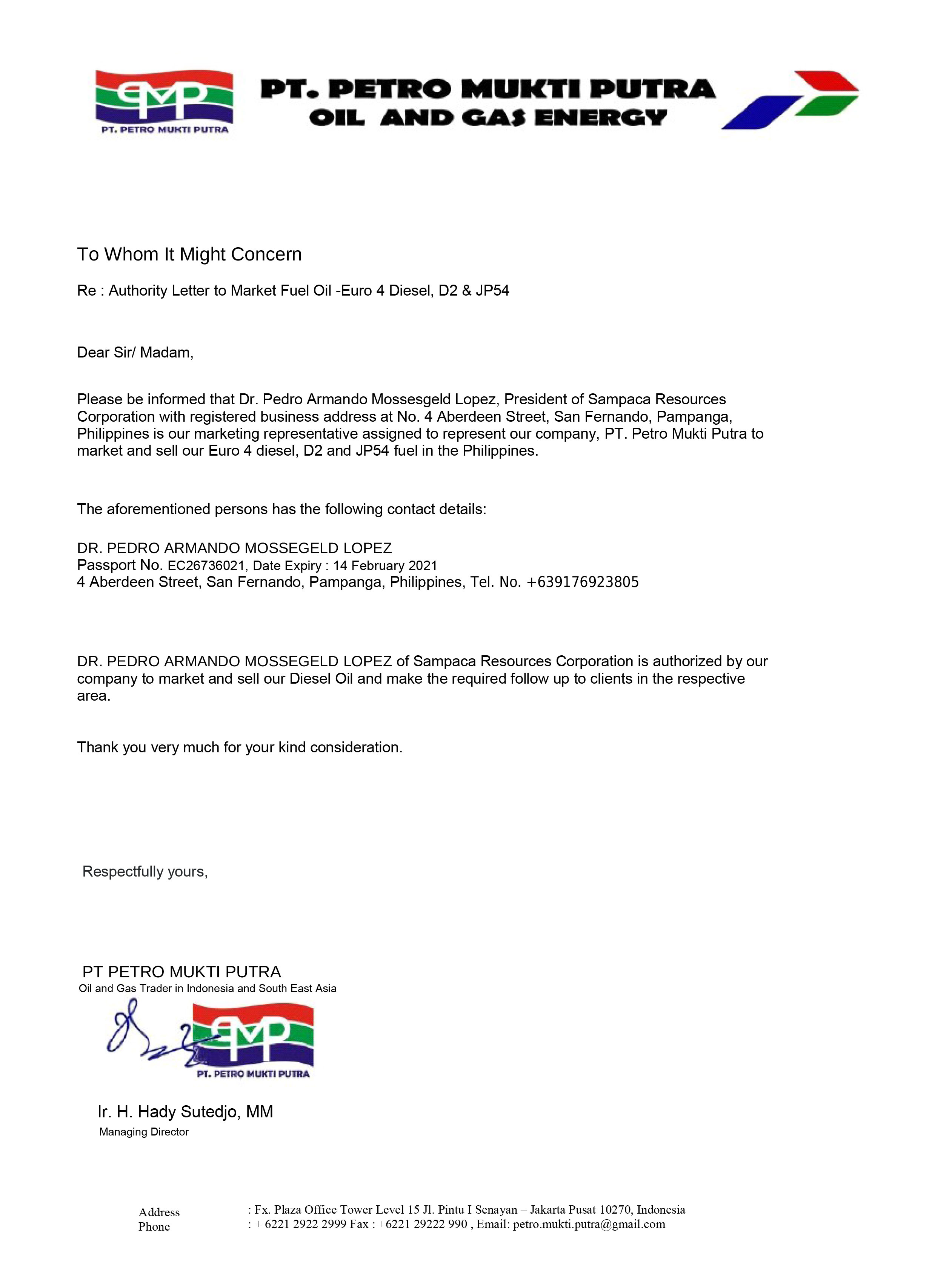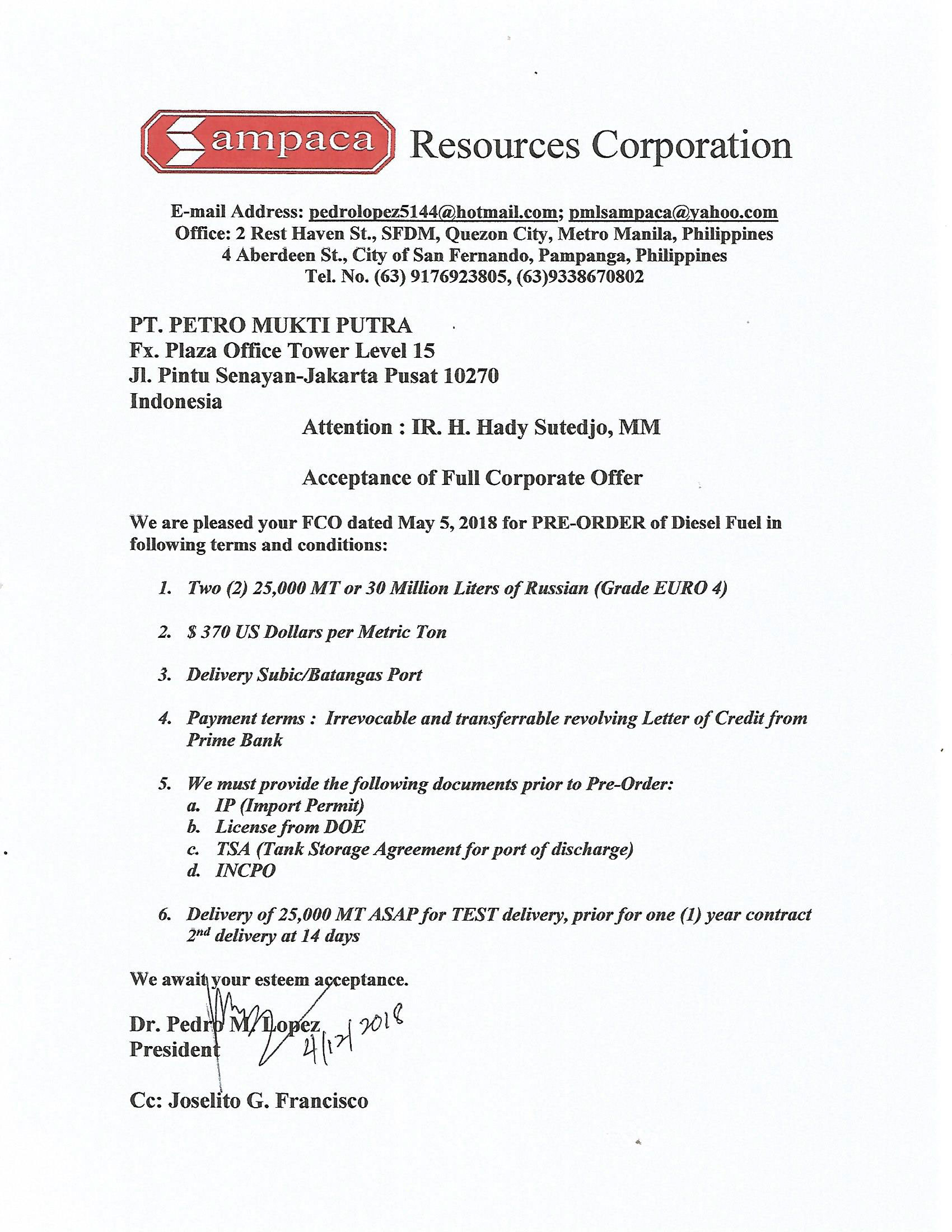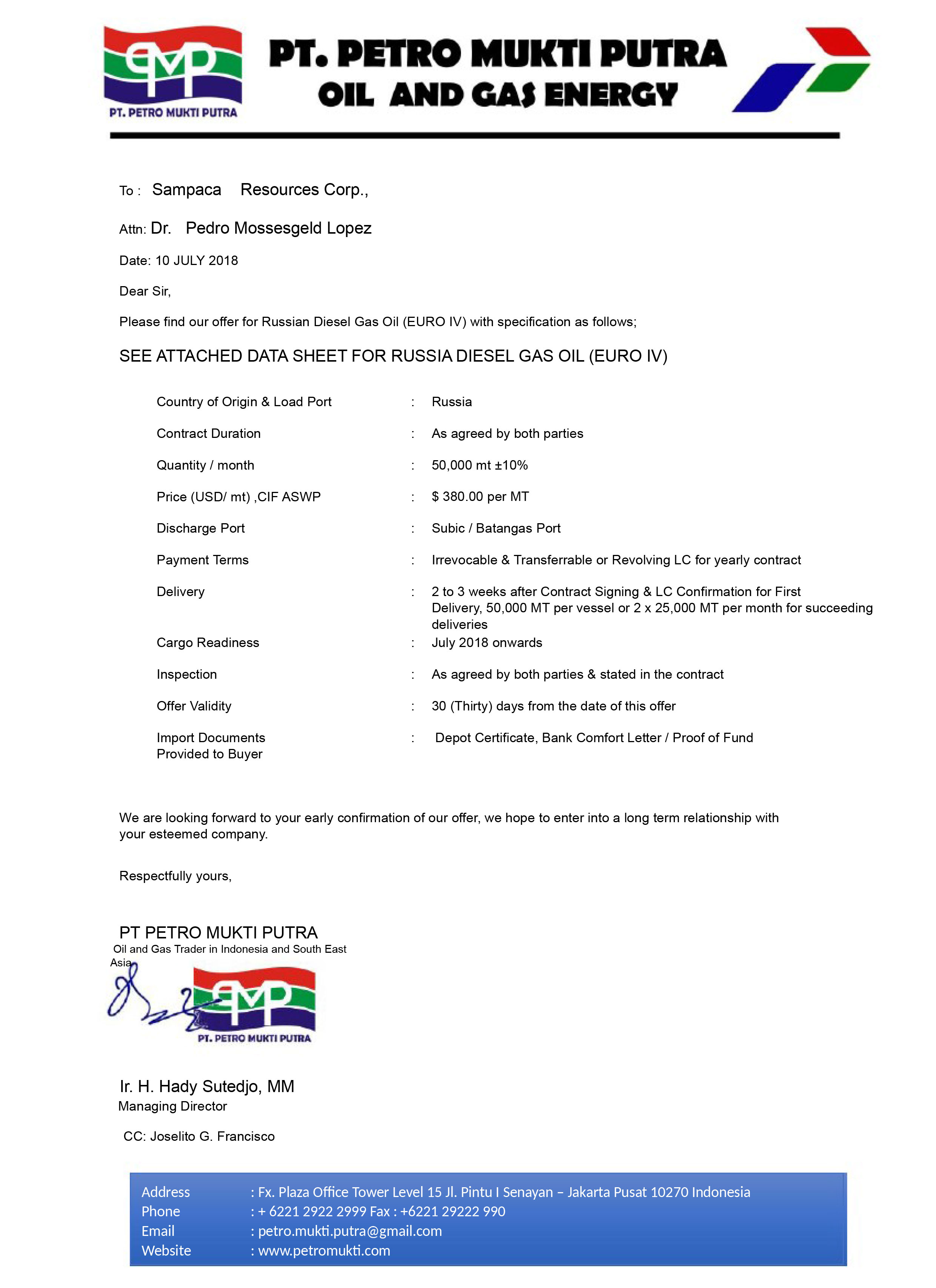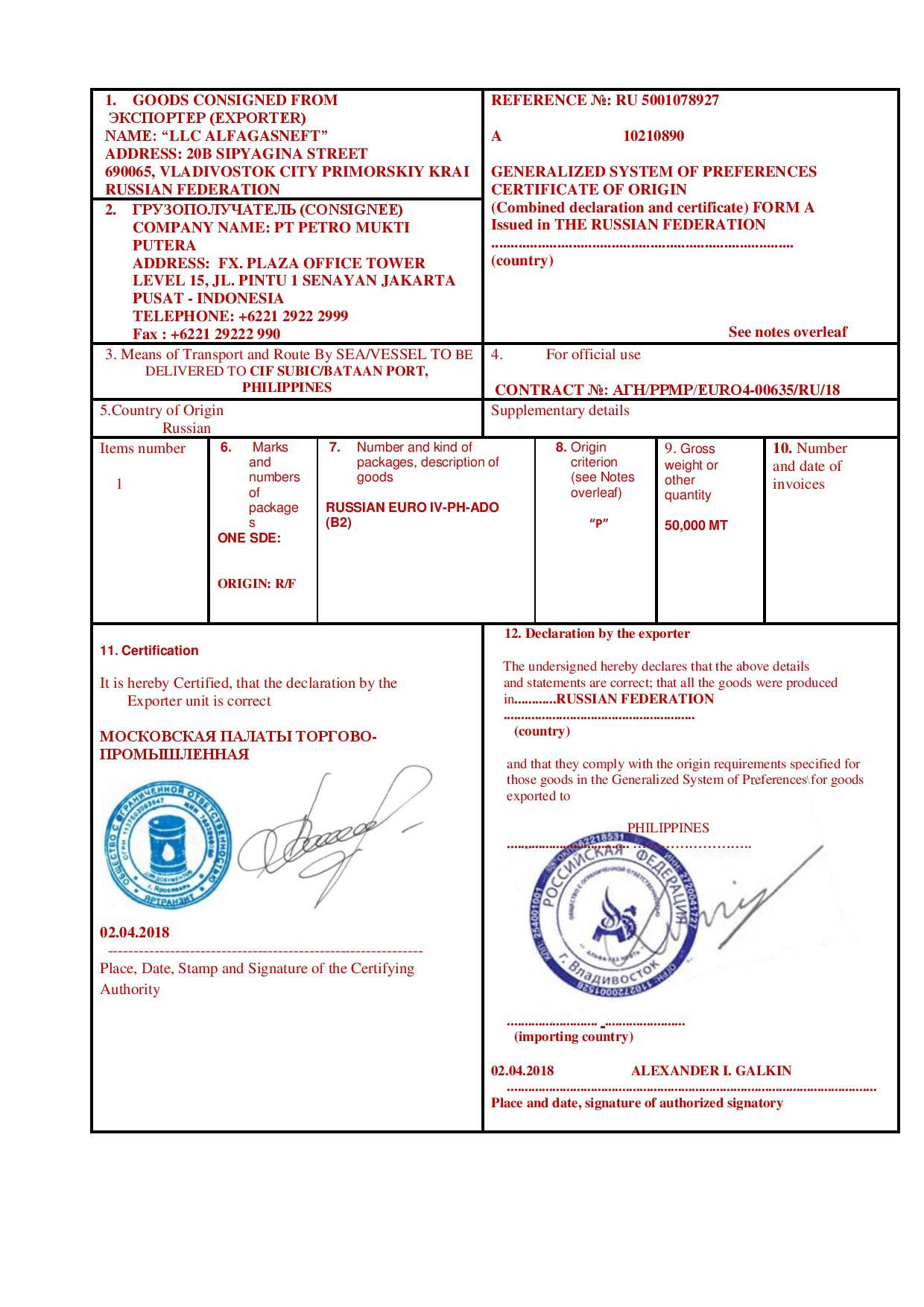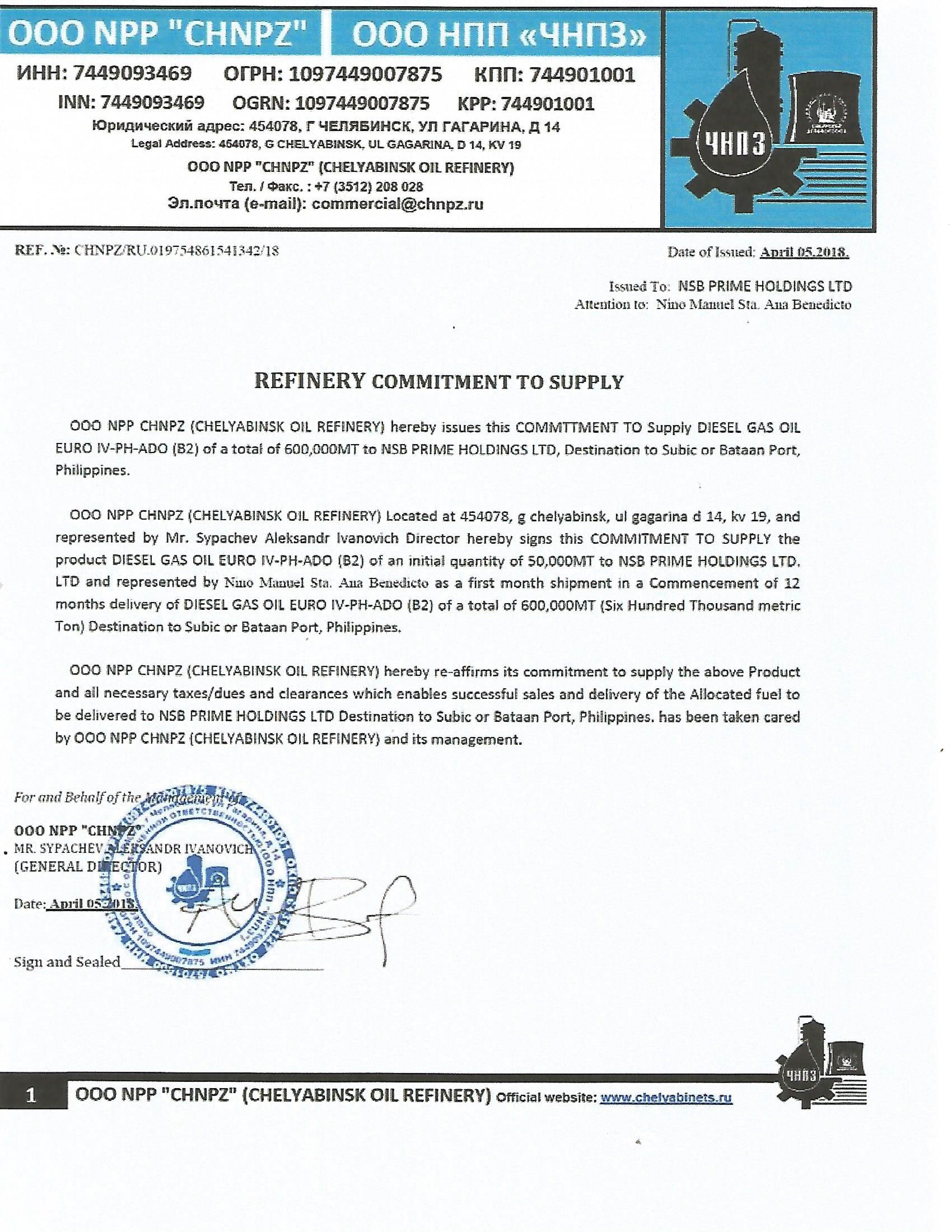 1 June,2018
No : 001/ICPO/xxx-PMP/06-2018
TO : PT PETRO MUKTI PUTRA
ADDRESS : FX Plaza Office Tower Level 15, Jl. Pintu 1 Senayan, Jakarta Pusat 10270, Indonesia
PHONE : +6221-30497500
FROM : xxxxxxxxxxxxxxxxxxx
xxxxxxxxxxxxxxxxxxxxxxxxxxxxxxxxxx
xxxxxxxxxxxxxxxxxxxxxxxxxxxxxxxxxxxxxxx
Dear Sir,
We, xxx xxx xxxxx xxx, hereby state and representative that it is our intention to issue Irrevocable Corporate Purchase Order for DIESEL GAS OIL EURO IV-PH-ADO (B2) from Russia , willing and able to Purchase the following commodity as per the specification and in the quantity as specified in the term and conditions as states below:
IRREVOCABLE CORPORATE PURCHASE ORDER / MOU
ICPO No: 001/ICPO/NSB-PMP/03-2018
Grade : Russian Export Grade
Origin : Russian Federation
Products : DIESEL GAS OIL EURO IV-PH-ADO (B2)
(Specification as attached)
Quantity Shipment : 25,000 MT x 2 Per Month
Price : USD 380 Gross
Contract Terms : 12 Months Minimum (With Rolls and extensions)
POP : Provided via secure fax and or DHL as per documents
list in contract
Inspection by : SGS/CIQ
1ST Delivery laytime : 4th Week June,2018 & latest 1st Week July 2018
Payment terms as : CIF (Cost Insurance Freight)
Total Payment : USD 9,250,000 per shipment
Payment Method : TT 100% for each shipment within 6-9 days upon
cargo passed SGS and receipt of all relevant payment
documents Operative irrevocable transferable fully
funded, cashback, Confirmed Standby Letter of Credit
(SBLC) to be provided.
Discharge Port : Subic or Bataan Port, Philippines
TERMS CONDITION:
1. Buyer sends ICPO to Seller on receipt of Seller's/representative Soft Offer with terms and procedures without changes with their company profile or past performance evidence.
2. Seller issues Commercial Invoice, Refinery Letter and Tank Storage Receipt to buyer for bank to bank confirming both parties readiness to perform to lift product and quantity agreed by the Buyer bank to seller bank via Check Giro / two weeks as buyer RWA to Seller bank final endorsement by the seller with the Ministry.
3. Within 48 Hours after signing CI by the buyer returned to seller and Bank Proof of Fund reference swift sent to seller bank, Seller release Proof Of Product / DTA documents to buyer, Fresh Tank Storage Receipt, Fresh SGS Analyst Report less than 24 Hours of age, Transneft Agreement, Certificate of Origin, Change of Ownership Certificate, Tank Take Over Agreement for Dip Test Authorization to buyer official address, buyer secured email and seller bank send Full POP to buyer bank. (All parties sign NCNDA/IMFPA to be endorsed by the notary)
4. Buyer provide to seller, buyer's vessel information with port clearance and details (or) Buyer Storage Tank Details.
a) Vessel must be docked before DTA is offered. (OR)
b) Buyer storage tanks with contract-assigned tank details must be provided to get DTA.
5. Buyer conducts Dip Test with Inspection team, Seller release Full Tittle Transfer to buyer and Buyer release payment to seller bank within 12 – 48 Hours. Lifting commences and seller issues to Buyer, Title of Ownership Certificate to be followed by all export required documentation.
6. All mandates, Brokers, Facilitators are settles through Wire Transfer by the appointed paymaster in accordance with the final signed commission agreement by all the parties involved.
NOTE:- No Time wasters with the transaction and buyers with their own procedures are prohibited, NOT welcome in any manner to avoid delays with both respective parties precious time and unnecessary expenses as your maximum cooperation and understanding
with the matter will be gladly appreciated, we are committed to help server you better with a good trading relation in the near future
Additional terms will be refer to refinery terms and to be advice.
BUYER'S INFORMATION:
| | |
| --- | --- |
| COMPANY NAMES | |
| CONTACT PERSON: | |
| COMPANY REG. NO: | |
| ADDRESS: | |
| TELEPHONE: | |
| CELL PHONE: | |
| FAX: | |
| EMAIL: | |
ISSUING BANKING INFORMATION:
SBLC ISSUING BANK:

BUYER'S BANK NAME:

BANK ADDRESS:

SWIFT:

BANK E MAIL ADDRESS:

TELEPHONE:

SBLC CORRESPONDENCE BANK

BUYER'S BANK NAME:

BANK ADDRESS:

SWIFT CODE:
SELLER BANK DETAILS COORDINATE
BANK NAME : tba
BANK ADDRESS : tba
BENEFICIARY NAME : tba ACCOUNT NUMBER : tba
BANK SWIFT CODE : tba
BANK OFFICER : tba
BANK EMAIL : tba
BANK TELPHONE NO. : tba
BANK FAX NO. : tba
DETAILS SPECIFICATION
DIESEL GAS OIL EURO IV-PH-ADO (B2)
SHIPMENT SCHEDULE
Min 25,000mts – 50,000mts per month
| | | | |
| --- | --- | --- | --- |
| SHIPMENT | YEAR, MONTH | QUANTITY | PORT BSS |
| 1 | 2018, JUNE | 25,000 MT x 2 | CIF |
| 2 | 2018, JULY | 25,000 MT x 2 | CIF |
| 3 | 2018, AUGUST | 25,000 MT x 2 | CIF |
| 4 | 2018, SEPTEMBER | 25,000 MT x 2 | CIF |
| 5 | 2018, OCTOBER | 25,000 MT x 2 | CIF |
| 6 | 2018, NOVEMBER | 25,000 MT x 2 | CIF |
| 7 | 2018, DECEMBER | 25,000 MT x 2 | CIF |
| 8 | 2019, JANUARY | 25,000 MT x 2 | CIF |
| 9 | 2019, FEBRUARY | 25,000 MT x 2 | CIF |
| 10 | 2019, MARCH | 25,000 MT x 2 | CIF |
| 11 | 2019, APRIL | 25,000 MT x 2 | CIF |
| 12 | 2019, MAY | 25,000 MT x 2 | CIF |